A-Z Celtic Bars full listings
Armenia
Yerevan - 26 Irish Pub, 26 Ghazar Parpetsi Street
Australia
Adelaide - John Doe's Local Bar, 162 Gilbert Street. Adelaide CSC
Brisbane - Lord Alfred, 68 Petrie Terrace, Brisbane CSC
Kingswood - Penrith Gaels Club 75 Richmond Road. Western Sydney CSC
Mandurah - Peninsula Bar, 1 Marco Polo Drive. Mandurah CSC
Melbourne - The Cross- St Kilda's, 14 Fitzroy Street, St Kilda. Melbourne Jock Stein CSC
Melbourne - Turf Sports Bar, 131 Queen Street. Melbourne No1 CSC
Mooloolaba - Mooloolaba Pub, 23 Venning Street. Danny Doherty CSC
Perth - Johnny Fox's (Formerly Rosie O'Grady's) 205 JamesStreet, Northbridge. Perth CSC
Perth - Irish Club 61 Townshend Rd, Subiaco.
Sydney - Scruffy Murphy's, 43-57 Goulburn Street, Haymarket. Sydney City CSC
Tasmania - Rockwell Bar and Grill, 89 Salamanca Place, Hobart. Tasmania CSC
Austria
Vienna - Charlie P's Währinger Str
Azerbaijain
Baku = Shakespeare Bar Abdulkarim Ali-Zadeh Street. Bhoys of Baku CSC
Bahrain
Manama - McGettigans, Block 338, Building 119.
Barbados
Holetown - Surfside Bar Behind Holetown Post Office
Bridgetown - Wendy's Sports Bar, Risk Road
Belgium
Antwerp - The Irish Times Pub Grote Markt 38
Brussels - de Valera, Pl Eugene Flagey 17.  Brussels CSC
Leuven - Thomas Stapleton Bar, Standonckstraat 4.
Bermuda
Pembroke - Robin Hood Pub and Restaurant, 25 Richmond Road. Bermuda Jock Stein CSC
Bosnia and Herzegovina
Sarajevo - Celtic Pub Ferhadija 12
Bulgaria
Sunny Beach - La Bamba, Beach Road 2, Nesebar
Canada
Aurora - The Tipsy Goose, 15171 Yonge Street, Suite 203, Ontario.  Aurora CSC
Brampton - Bramalea Celtic Supporters Club 30 Peel Centre Drive. Bramalea CSC
Brantford - Knights of Columbus 12 Catharine Ave, Branford. John Thomson Memorial CSC
Burlington - The Slye Fox, 4057 New Street. Burlington CSC
Calgary - Tavern 52, 183052 St, SE#110. Calgary CSC
Hamilton - Irish Club of Hamilton 389 Concession St. Hamilton Jock Stein CSC
London - Moose Lodge 6 Weston St. London CSC
Montreal Quebec - Brasserie Manoir NDG 6810 St Jacques St. Joe Kennaway Montreal CSC
Nova Scotia - The Old Triangle Irish Alehouse, 5136 Prince Street, Halifax
Ontario - Manhattan Bar and Grill 405 Vine St, St. Catharines. St Catharines CSC
Ottawa - Heart & Crown - Byward (Mother McGinty's Bar) 67 Clarence. St Ottawa CSC
Sarnia - Paddy Flaherty's 130 Seaway Rd. Sarnia CSC
Toronto - McVeigh's Irish Pub 124 Church Street. Downtown Toronto CSC
Toronto - Toronto Celtic Club, 2220 Midland Ave Unit 27. Toronto CSC
Vancouver - Port Coquitlam Legion 2675 Shaughnessy St, Port Coquitlam. Vancouver No1 CSC
Vancouver - Library Square Public House 300 W Georgia Street. Vancouver Shamrock CSC
Whitby - The Durham Celtic Club 110 Ash St. Durham CSC
Windsor - Rockhead Pub 1444 Ottawa St. Windsor CSC
Canary Islands
Fuerteventura, Las Palmas - Step Inn Av. Virgen de la Peña, 17
Fuertaventura - Murphy's Irish Bar Calle la Red, 49-50, Corralejo
Lanzarote - Bar 67 & Grill, Av de las Playas, Puerto del Carmen. Lanzarote CSC
Lanzarote - Auld Triangle Chabusquillo Matagorda Mall, Tias, 35. Lanzarote CSC
Lanzarote - Irish Anvil C. C. Punta Limones, L., Playa Blanca
Lanzarote - Irish Bailey 35508 las, Plaza el Janubio, Costa Teguise
Lanzarote - Shamrock Bar CC. Jablillo Local 13a Avda del Jablillo, Costa Teguise
Lanzarote - The Venue Av. de las Playas, 67 Puerto del Carmen, Las Palmas
Santa Cruz de Tenerife - The Chieftain Pub Calle Noelia Afonso Cabrera
Tenerife - Hoops Bar, Calle Santa fe4, El Mirador, Los Cristianos. Hoops Bar CSC
Tenerife - Irish Fiddler Las Américas, Costa Adeje
Tenerife - Temple Bar Av. de Colón, 3, 38660 Costa Adeje
Tenerife - Irish Rover - TF-481, 42, 38660 Costa Adeje
Tenerife - Emerald Lounge, C San Blas, 102. 104. 38639 Oasis del  SurSan Blas
Tenerife - The Bee Hive, C la Hoya, 25, 38400 Puerto de la Cruz, 38400 Puerto de la Cruz
Caymen Islands
Cayman - Fidel Murphy's, West Bay Road, Cayman Islands
Channel Islands
Guernsey - Albion Tavern, Church Square, High Street Guernsey CSC
Jersey - Soleil Pub, 12 Bath Street, St Helier. Jersey CSC
China
Guangdong - Hooley's Irish Pub, Tianhe District, Guangzhou. Guangdong Hoops CSC. Shenzhen CSC.
Shanghai - The Blarney Stone Irish Pub 77 Yongkang Rd, Xuhui Qu.
Croatia
Dubrovnik - Celtic Bar Belfast Ul. Marka Marulića 19
Split - O'Hara's Irish Pub, Ilecev pro 1
Cyprus
Paphos - Buzz Bar 11, Panagias Theoskepastis. Paphos Hoops CSC
Ayia Napa - Paddy's Bar, Ayia Napa 5330.
Czech Republic
Prague - Pubble – Sportbar, Hospoda, Restaurace, Chorvatská 1342/17.  Prague 67 CSC
Denmark
Copenhagen - The Dubliner Amagertorv 5
Odense - Australian Bar Brandts Passage 10
England
Banbury - Dog and Gun 6 North Bar Street. Banbury CSC
Barrow in Furness - Tally Ho, 2A Sneider Rd. Barrow in Furness CSC
Bedford - The Grafton Hotel 141 Midland Road. Bedford CSC
Bicester - White Hart Bar 4 Sheep Street. Oxon Shamrock CSC
Birmingham - St Patrick's 81 Rotton Park Road. Black Country Che Guevara CSC
Birmingham - Nortons Digbeth, 43-45 Meriden Street.
Blackpool - Catholic Club 30 Queen Street Blackpool. Shamrock CSC
Bolton - Bolton Irish Centre 93 Lever Street. Bolton Shamrock CSC
Bournemouth - Westbourne Pub 5 Poole Road. Bournemouth Shamrock CSC
Brighton - Molly Malones, 57 West Street. Brighton CSC
Bristol - The Sportsman Nevil Rd. Bristol CSC
Bristol - Coach and Horses 25 Glouster Lane. Bristol CSC
Carlisle - Gallaghers Bar, St Nicholas Street
Chelmsford - O'Connors Bar 7 Hall Street
Chester - St. Werburgh's Parish Centre 26 Brook Street. St Werburgh's CSC
Corby - Corby Irish Centre Patrick Rd. Corby CSC
Coventry - Four Provinces 9 Allesley Old Rd. Coventry Emerald CSC
Coventry - Charterhouse Social Club 48 David Rd. Coventry Hay CSC
Coventry - The Hastings 41 Clay Lane. Coventry CSC
Coventry - The Bricklayers Arms, 26 Cromwell Street. Bricklayers Arms CSC
Dartford - Dartford Irish Centre, 43 Overy Street. North Kent CSC
Derby - Derby Irish Association,  11 Becket Street. Derby CSC
Doncaster - Doncaster Catholic Club, Waterdale. Doncaster Harp and Shamrock CSC
Doncaster - O'Donegan's Irish Bar, 20-21 Hall Gate. O'Donegan's CSC
Durham - Salvin Arms, Croxdale.
Eastbourne - Jesters Sports Bar, 121 Seaside Rd. Eastbourne CSC
Gloucester - Gloucester Irish Club, Horton Road. Gloucester Shamrock CSC
Great Yarmouth - Pub On The Shrubs Hawthorn Rd, Gorleston-on-Sea
Grimsby - Lindon Homes Club Clee Road. Grimsby Emerald CSC
Halifax - Halifax Irish Centre Clifton House, W Parade. Halifax CSC
Hereford - Black Lion 31 Bridge St. Hereford CSC
Hitchin - Club 85 74 Whinbush Rd. Flight of Earls Hitchin CSC
Huddersfield - Huddersfield Irish Centre 86 Fitzwilliam St. Huddersfield CSC
Keighley - Engineers Social Club Russell St. Keighley CSC
Kettering - The Rising Sun, Silver Street. Kettering Harp CSC.
Leamington Spa - St Patrick's Irish Club 4 Adelaide Rd
Leeds - Leeds Irish Centre York Road. Wim the Tim CSC
Leicester - Duffy's Bar 18 Pocklington Walk. Leicester CSC
Liverpool - Molly Malones 25 Victoria Street. Liverpool Emerald CSC
Liverpool - Fitzgerald's Irish Bar, 25-27 Slater Street. Michael Davitt Liverpool CSC
Liverpool - The Celtic Corner, 43 Ranelagh St.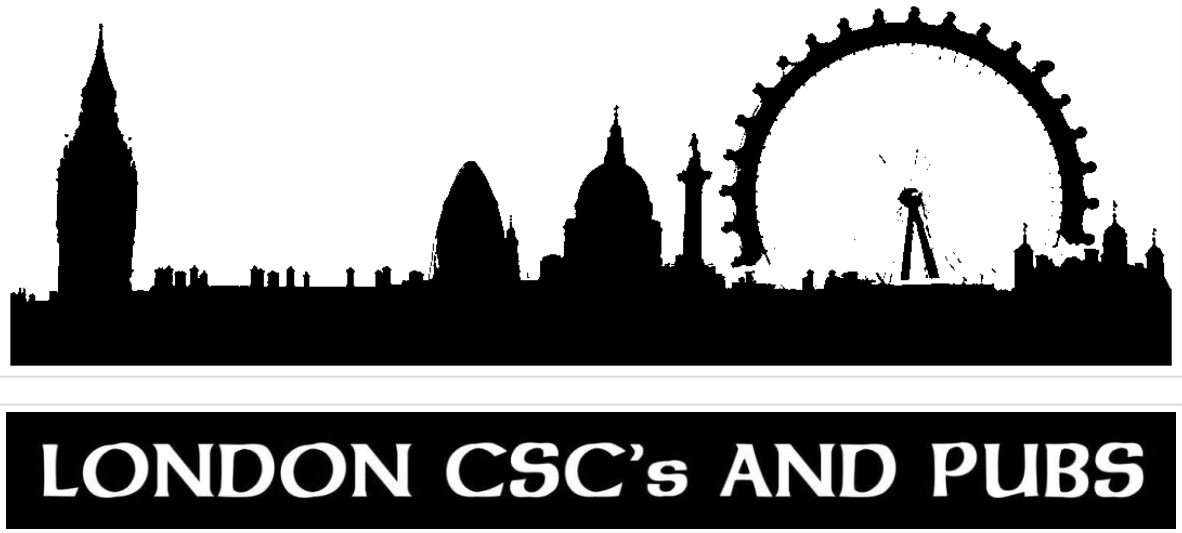 London - Sheephaven Bay 2 Mornington St, Camden. Camden Bhoys CSC
London - Cock Tavern 23 Phoenix Rd, Euston. Underground CSC
London - The Leather Exchange, 18 Leathermarket Street.
London - South London Irish Centre, 138-140 Hartfield Rd. Wimbledon. Wimbledon CSC
London - The Leather Saddle, 138 Broadway, Ealing. Hayes Bhoys CSC
London - Railway Tavern 401 Southend Lane, Sydenham. Bhoys of Croydon CSC
London - Frosty's Bar Kenton Rd, Harrow. North West London CSC
London - The Royal Horseguardsman 23 Ealing Rd, Brentford. West London CSC
London - Monaghans Tavern 239 High Rd, Wood Green. Wood Green Bhoys CSC
London - Connolly's Bar 450 Chiswick High Rd, Chiswick. Shepherds Bush Emerald CSC
London - Philomena's Irish Sports Bar & Kitchen 40 Great Queen St, Holborn, Covent Garden
London - The Shawl Bar, 320 Northolt Rd, South Harrow, Harrow. Harrow Shamrock CSC
London - The Carpenter's Arms 17 Carpenters Rd. Brother Walfrid East London CSC
London - Gertie Brownes London 95 High Rd, East Finchley.
London - Molly Blooms (Formerly New Brewery Tap) 525 Kingsland Rd, Dalston, Hackney. Hackney Celts
London - The Stoke Pub, 103 Stoke Rd, Guildford. Guildford CSC
London - Mascara Bar, 72 Stamford Hill
London - Albion, 2-3 New Bridge Street.
Luton - Celtic Supporters Club Chobham Street. Luton CSC
Maidenhead - Pond House 53 Bath Road. Maidenhead CSC
Manchester - O'Sheas Irish Bar 80 Princess St. Manchester Flying Column CSC
Manchester - Station Bar 682 Wilmslow Rd, Didsbury. South Manchester CSC
Middlesbrough - Whinney Bronx Dead Rabbits Social Club, 12 Fairfield Ave. Whinney Bronx Dead Rabbits CSC, Colburn CSC
Middlesbrough - The Central 39 Corporation Rd
Milton Keynes - Bletchley Postal Club, Brooklands Rd, Bletchley
Morecambe - The Exchange, 29 Regent Road, West End.
Newcastle upon Tyne - Tyneside Irish Centre 43 Gallowgate. Tyneside No1 CSC
Norwich - Pogue Mahon's, 72 Prince of Wales Road. Norwich and District CSC
Nottingham - Greyfriars Club Gordon Road. Pride of Erin CSC, Nottingham Shamrock CSC
Plymouth - The Eagle 156 Cornwall Street. Plymouth CSC
Preston - The Sun Hotel 112 Friargate. Preston Emerald CSC
Ramsgate - Elephant & Castle 8 Hereson Road. Ramsgate Emerald CSC
Reading - The Gateway 31 Greyfriars Road. Reading CSC
Redcar - O'Gradys Hotel 18-20 Queen St. Redcar CSC
Rotherham - The New Inn Midland Rd. Rotherham Harp CSC
Scarborough - Rack and Roll Sports Bar. Waterhouse Lane. Scarborough CSC
Scarborough - The Sun Inn, 21 St Thomas Street.
Scunthorpe - The Beacon Hotel, Burrington Road. Scunthorpe CSC
Southampton - Engineers Club 18 Station Hill, Eastleigh. Chris Sutton Southampton CSC
Southend on Sea - Grange Social Club, 3-5 Grainger Rd. Southend CSC
Stevenage - The Poachers 129 Bedwell Cres. Stevenage CSC
Sunderland - Spot White, 8 Signal House, Waterloo Place. Sunderland CSC
Swindon - The Waiting Room 59 Fleet Street. Swindon Shamrock CSC
Torquay - DT's, 73 South Street. Torquay CSC
Welwyn Garden City - Hatfield Hyde Cricket Club, Beehive Lane. Paul Carter CSC
Weymouth - The Tides Inn 26 Kings Street. Weymouth CSC
Wigan - Brian Boru Club 55 Bryn St, Ashton-in-Makerfield. Leigh and Wigan CSC
Wolverhampton - The Emerald Social Club Cross St North. Wolverhampton Shamrock CSC
Worthing - The Tarring Club, 118-122 Pavilion Road. Spirit of 67 CSC
York - O'Neill's 10 Low Ousegate. York CSC
Estonia
Tallinn - Mad Murphy Bar, Mundi 2.
France
Bordeaux - The Connemara 18 Cours d'Albret
Grenoble - O'Callaghan Irish Pub : 2 Place de Berulle
Lyon - Wallace Bar, 2 Rue Octavio Mey
Marseille - O'Brady's Irish Pub 378 Avenue de Mazargues
Montpellier - Fitzpatrick's Irish Pub 5 Place Saint-Come
Nice - Ma Nolan's Irish Pub 2 Rue Saint-François de Paule
Paris - McBrides Irish Pub 54 Rue Saint-Denis. French CSC
Paris - Harp Bar 118 Boulevard de Clichy. Paris CSC
Germany
Berlin - Astra Stube Weichselstraße 63, Nuekoln. Berlin Buckfast Crew CSC
Cologne - Barney Vallely's Bar Kleine Budengasse 7-11. Koln Brigade Celtic Glasgow Fanbase.
Cologne - Jamesons Pub, Friesenstraße 30
Dortmund - Zum Zollner Hainallee 2. Tremonia Bhoys CSC
Dresden - Irish Fiddler Alaunstraße 62. Dresden CSC
Düsseldorf - McLaughlin's Bar Kurze Str. 11. Dusseldorf Bhoys CSC
Frankfurt - O'Reilly's Irish Pub, Am Hauptbahnhof 4.
Hamburg - Jolly Roger Bar Budapester Str. 44. St Pauli CSC
Hamburg - Millerntor Pub Detlev-Bremer-Straße 42
Hamburg - Paddy's Bar, Schauenburgerstrasse 40. Hamburg CSC
Munich - Scholars Lounge Hochbruckenstrasse 3
Nuremberg - Kings Arms, Jakobspl. 6. Nuremberg CSC
Greece
Athens - James Joyce Astiggos 12
Corfu - Dirty Nellie's Irish Pub, Ipsos pyrgi, Kato Agios Marcos, Ipsos
Corfu - Scorers Bar, Kavos Main Street, Kavos
Faliraki - Jamaica Bar, Ermoi Street, Faliraki
Rhodes - Antika CafeBar Leof. Sofokli eVnizelou 59, Ilioupoli
Rhodes - Giorgios Bar, Lindos 851 07.
Thessaloniki - The Dubliner Katouni 16. Thessaloniki CSC
Zante - Two Brothers Bar Tsilivi Zakynthos
Zante - Paradise Cocktail Bar, Tsilivi
Holland
Amsterdam - Molly Malones, Oudezijds Kolk 9. Amsterdam CSC
Den Haag - O'Casey's Irish Pub Noordeinde 140
Rotterdam - Paddy Murphy's Irish Pub Rodezand 15
Hong Kong
Sai Wan - Forbes 36 Sports Bar, 56 Forbes St. Hong Kong CSC
Hungary
Budapest  Davy Byrnes Irish Pub, Jokai u4, 1066. CSC Budapest
Budapest - Becketts Irish Bar & Restaurant Liszt Ferenc tér 11. Budapest CSC
Pecs - Glasgow Pub and Cafe, Majorossy, Imre u1.
India
Goa For bars in Goa Contact John McGinley and he will advise. johnmcginley1962@yahoo.co.uk . Goa CSC
Indonesia
Seminyak Rosey, Seminyak, Kuta, Kabupaten Badung, Bali - Rosey Murphys Irish Pub Jalan Drupadi No.50 In front of Harris Hotel
Seminyak - The Social, Jalan Petitenget No10 D
Isle of Man
Douglas - Brendan O'Donnell's, 16-18 Castle Street.
Italy
Barga - Bar Del Paologas Via Guglielmo Marconi, 8. Barga CSC
Florence - Finnegans Irish Pub Via S. Gallo, 123R
Lecco - The Shamrock Irish Pub Via Giuseppe Parini, 5. Lecco CSC
Milan - Offside Sports Pub Via Losanna, 46. Italian Celts CSC
Rome - Finnegans Irish Pub Via Leonina, 66
Rome - Scholars Lounge Via del Plebiscito, 101/b
Sorrento NA - Chaplins Corso Italia, 18. Sorrento CSC
Venice - The Irish Pub Venezia Corte dei Pali, 3847, Cannar egio
Volterra, Tuscany - Enjoy Cafè Bar Sportivo Piazza Martiri della Libertà
Japan
Tokyo - British Pub 2nd Half Takadanobaba, Shinjuku. Tokyo CSC
Luxembourg
Luxembourg - Pygmalion Bar (The Pyg) 19 Rue de la Tour Jacob. Luxembourg CSC
Macedonia
Skopje - Irish Pub St. Patrick Кеј 13-ти Ноември 8,
Malaysia
Kuala Lumpur - Sebastian's Gastro Bar 32, Persiaran Ampang, Taman U Thant. Kuala Lumpur CSC
Sabah - Mynt Club, Lot 10, Anjung Samudera, Jalan Tuh, Fuad, KK Waterfront, Kota Kinabalu.
Malta
Bugibba - Munchies Bar Tourist Street. St Paul's Bay. Malta CSC
Mexico
Cancun - Bubba Gump Shrimp Co. Cancún Flamingo Mall km 11.5, Boulevard Kukulcan, Zona Hotelera
New Zealand
Auckland - The Claddagh Irish Pub 372 Broadway, Newmarket. New Zealand CSC
Christchurch - The Craic Irish Bar 84 Riccarton Rd, Riccarton. Christchurch CSC
Northern Ireland
Antrim - Marrions Bar 8 Main Street, Randalstown. Randalstown CSC
Antrim - Lurig Inn 5 Bridge Street. Glens of Antrim CSC
Antrim - Cliftonville Social Club Cliftonville Street. Jock Stein CSC
Armagh - Lurgan No1 Branch 2 Church Walk, Lurgan. Lurgan No1 CSC
Armagh - Tunnel Bar 68 Obin Street, Portadown. Tommy Burns CSC
Ballycastle - O'Connors Bar Ann St
Ballymena - Waterfall Bar 1 High St, Carnlough. Carnlough Travel Club
Ballymena - The Bridge Inn (McAuley's) 2 Bridge St, Carnlough. Carnlough Travel Club
Ballymena - The Central Bar & Restaurant 7 Bridge St, Cushendall
Banbridge, Co Down - Higgins Bar 12 Scarva Street. Banbridge Bhoys CSC
Belfast - Nancy Mulligans Bar 95-97 Castle Street
Belfast - Glenowen Inn 108 Glen Road. Tullyglen CSC
Belfast - Parador Bar 471 Ormeau Road.
Belfast - Felons Club 537 Falls Road Felons. Brother Walfrid CSC
Belfast - Roddy McCorley Social Club Moyard House, Glen Rd
Belfast - Strand Bar 62 Mountpottinger Rd. St Matthews CSC
Belfast - Fountain Tavern 16 Fountain Street. Greencastle Emerald CSC
Belfast - Rock Bar 491 Falls Road. Liam McShane CSC
Belfast - Cliftonville Bowling Club 13-23 Knutsford Dr. James Kelly CSC
Belfast - Fiddlers Inn 36 Main Street, Crumlin
Belfast - Rose and Crown, 135 Ormeau Road. Dicey Reilly CSC
Belfast - McLaughlins Bar, 150 Antrim Road. McLaughlins CSC
Belfast - Donegal Celtic Sports & Social Club, 37 Suffolk Rd.
Belfast - Casement Social Club, Roger Casement Park. Eire go Brach CSC.
Belfast - Anderstown Social Club, 8 E S Link. Tanzy Burns CSC
Belfast - Crumlin United Social Club, Mill Road, Crumlin. Crumlin CSC
Bellaghy - McKenna Bar 1 Ballyginniff Road. Starry Plough CSC
Castlewellan - Maginns 9 Main Street
Coalisland - Clonoe Social Club, 93 Wasingbay Road. Coalisland CSC
Coleraine - The Captains Bar 8 Captain Street Lower. Kevin McDade CSC
Cookstown - Greenvale Hotel & Restaurant 57 Drum Rd. Cookstown CSC
Derry - Peadar O'Donnell's 63 Waterloo St. Paul McStay CSC
Derry - Dungloe Bar 41 Waterloo St. Derry No1 CSC
Derry - Arcade Bar 107 Main Street, Dungiven. Dun Geinhim CSC
Derry - Shantallow House, 64 Racecourse Road. Derry Pele CSC
Derry - Mary B's Bar - 42 Elmwood Terrace
Enniskillen - Charlies Bar 1 Church. Bhoys of Erin CSC
Enniskillen - The Stags Head, Lisnaskea. Bhoys of Erin CSC
Fermanagh - Willie Ramblers 14 Forthill St, Enniskilin. Bhoys of Erne CSC
Glenavy - Lily's Bar and Kitchen, 18-22 Main Street. Glenavy CSC
Lisburn - Hibs Social Club 36 Longstone St. St Pats Lisburn CSC
Newry - Nan Rice's Bar 7 Francis Street. Willie Maley CSC
Omagh - Irish National Foresters Hall 17 George's Street. Billy McNeill Omagh CSC
Tyrone - Hagan's Bar 39 Irish St, Dungannon. Tir Eoghain No1 CSC
Tyrone - Eddie's Bar, 140 Greencastle Road, Omagh
Norway
Bergen - Brian Boru Irish Pub, Kong Oscars Gate. Bergen Bhoys CSC
Oslo - Bernie's Bar, Schweigaards gate 50 B, Norway CSC
Trondheim - Three Lions pub Brattørgata 12 B. Brattbakk Bhoys CSC
Papua New Guinea
Londolovit - Lihir Sports and Social Club, Londolovit. Papua New Guinea CSC
Philippines
Cebu - Howling Dogs Sports Grill, 18 Jakosalem Street, Cebu City.
Metro Manila - Heckle and Jekyl, 31 Polaris, Makaki
Poland
Gdansk - Celtic Pub, Chmielma 3/5
Krakow - Duffy's Irish Bar Świętego Wawrzyńca 18
Warsaw - Emerald Irish Pub, al Jerozolimskie. Warsaw CSC
Portugal
Albufeira - Jinky's Bar Av. dos Descobrimentos 1. Jinkys Bar CSC
Albufeira - Lions Den, Villa Nova centro commercial, Avenue sa Carneiro.
Alvor - Rory Mc's Bar R. da Paz 1
Alvor - The Parlour Irish Bar, Rua Poeta Joao Deus no3
Cascais - Cooleys Irish Pub Praça 5 de Outubro 31
Cascais - O'Luains Irish Pub, R de Palmeira.
Lagos - Mullen's Bar R. Cândido dos Reis 86
Lisbon - O'Gilin's Irish Pub, R Dos. Remolares 8.
Madeira - Moynihan's Irish Bar Madeira 101, Rùa Imperatriz D Amelia, 9000-018 Funchal
Praia da Rocha - Bar Boogie, Av Tomas Cabreira, Portimao
Qatar
Doha - Shamrock Tavern, Magnum Hotel and Suites Westbay Building 5, Zone 61. Doha CSC
Republic of Ireland
Athlone - The Castle Inn, 1 Main Street. Athlone CSC
Carlow - Dicey Reilly's Centaur St, Graigue Graiguecullen. Croppy Bhoys CSC
Cavan - The Widow's Bar, 11 Main St, Belturbet. Breffni CSC
Cavan - Gartlans, Lower Main Street, Kingscourt. Jock Stein CSC
Clare - The Irish Arms 1 Main St, Rathbaun, Lisdoonvarna. Irish Arms CSC
Clare - Patrick's Bar, 6-8 Market Place, Ennis. Ennis CSC
Cobh - Quarry Cock Pub, 21 John O'Connell Street, Kilgarvan. Cobh CSC
Cork - The Ferry Arms Ferry Point, The Dockyard. Cork No1 CSC & Passage West CSC
Cork - Friars Walk Tavern 10 Friars Walk, Ballyphehane. Bertie Auld CSC & Leeside CSC
Cork - Farrells Bar Summerfield, Youghal. Youghal CSC
Cork - Gallows Bar 160 Bandon Road, The Lough. Pat Glavin CSC
Cork - Harp Bar 108 Pouladuff Road, The Lough. Lewis Capaldi CSC
Cork - Geaney's Bar, 2 Dublin Street, Blackpool. Liam Miller CSC
Donegal - Sharkey's Bar Illannavoree, Annagry. Rosses CSC
Donegal - The Shamrock Lodge Main St, Falcarragh. Falcarragh CSC
Donegal - Sean Og's Bar, Middletown Derrybeg.  Tommy Burns CSC
Donegal - McKelvey's Bar Glenfin St, Ballybofey. Twin Towns CSC
Donegal - Lily's Bar Diamond, McGonagle's, Drumcarbit, Malin
Donegal - The Sportsman Inn The Diamond, Gort Glebe, Carndonagh
Donegal - McCafferty's R267, Glebe
Donegal - Teac Jacks Carrick, Glassagh
Donegal - Maguire's Bar, Main Street, The Square, Ballynally, Moville.
Donegal - The Squealing Pig, Main Street, Muff
Drogheda - McHugh's Bar and Venue, 1/2,Bóthar An Chorda. St Laurence CSC
Dublin - The Living Room Cathal Brugha St, Rotunda
Dublin - The James Connolly, 11 Eden Quay, North City. Naomh Padraig CSC
Dublin - Irishtown House 60 Irishtown Rd. Spirit of 88 CSC
Dublin - Jacobs Bar Main Street, Saggart Village.
Dublin - Kiltipper Cafe Bar Marlfield all,M Kiltipper. Kiltipper CSC
Dublin - Kilmardinny Inn, Lorcan Ave, Whitehall. Spirit of Lisbon CSC
Dublin - The Swallows Deansrath Shopping Centre, St Cuthberts Rd, Deansrath. Lubo Moravcik Dublin CSC
Dublin - Peadar Browns, 1A Clanbrassil Street Lower
Dublin - Downey's Bar, 89 Cabra Road. Paul Byrne CSC
Dublin - The Greyhound Bar, 15 Main Street, Blanchardstown.
Dublin - The Lough Inn Pub, Unit 11, Loughlinstown Shopping Centre, Loughlinstown. South Dublin CSC.
Dublin - Baurnafea House, Main Street, Rathcoole. Rathcoole CSC
Duleek - Nanny's of Duleek, Main Street, Knockisland. St Margaret's CSC.
Dundalk - Kehoe's Bar (O'Connell's Bar) Quay St, Marshes Lower. Tain Bhoys CSC
Dungloe - Bridge Inn, Lower Main Street.
Dun Laoghaire - O'Loughlin's Pub, 26 George's Street Lower. Dun Laoghaire CSC
Enniscorthy - The Hole in the Wall, 3 Market Square. Enniscorthy CSC
Galway - McGinns Hop House 19 Woodquay. Galway CSC
Galway - Crowes Bar and Beer Garden, 90 Bohermore. Liam Mellows CSC
Kerrykeel - The Village Inn, Main Street.
Kildare - Newtown Inn Newtown Shopping Centre, Greenfield, Maynooth. North Kildare CSC
Kildare - Moloney's Bar, 8 Charlotte Street, Newbridge. South Kildare CSC.
Kilkenny - Egan's Bar 45-46 John Street Upper, Highhays. Wolfetone CSC
Killarney - Failte Hotel 33 College St
Laois - Kavanaghs Bar 28 Main St, Moneyballytyrrell, Portlaoise. Sliabh Bhladhma CSC
Laois - Humes Bar Main St, Kylekiproe, Portlaoise
Letterkenny - The Wolfe Tone Lower Main St.
Limerick - Scoby's Bar, Main St, Barrysfarm, An tOspid éal. Scoby's Bar CSC
Limerick - Brendan O Briens Pub, 5 Roches St. Sean South CSC
Longford - Kanes Bar (Murphy's) 27 Ballymahon St. Andy's Bhoys Longford CSC
Mayo - Teds Bar, Cashel South, Achill Island. Achill Island CSC
Mayo - Cu Chulainns Bar Altamount St, Knockranny, Westport. Westport CSC (Formerly Major John MacBride CSC)
Monaghan - Nallo's Bar and Lounge 54 Main St, Drummond Etra, Carrickmacross. Brian Keenan Carrickmacross CSC
Naas - Naas GAA, Sallins Road. Nas Na Riogh CSC
Shannon - Shannon Knights 29 Shannon Town Centre, Tullyvarraga. Charlie Tully CSC
Sligo - O'Neill's Bar Church Hill
Tipperary - Phil Ryan's Pub 5 Silver St, Knockanpierce, Nenagh. Brian Hogan CSC
Tipperary - Millea's Castle Tavern Bar, 37 Liberty Square, Thurles. Dan Breen CSC
Tipperary - Quinlans Lounge, Davis St. John O'Leary CSC
Tralee - The Greyhound Bar Pembroke St, Balloonagh. Tralee No1 CSC
Tullamore - Fergie's Bar and Lounge, Market Square. Mid Leinster CSC
Waterford - Grattan Bar 3 Bridge St. Port Lairge Emeralds CSC
Wicklow - The Boomerang Bar Quinsborough Road, Bray. Lisbon Lions Bray CSC
Wicklow - Gallery Pub Main St, Arklow. An Tinbhear CSC
Wicklow - Fitzpatrick's Bar, Abbey Street,  Wicklow Emerald CSC
Wicklow - The Brook House, Lower Main Stret. Father Murphy Arklow CSC
Romania
Cluj-Napoca - Old Shepherd Strada Matei Corvin Nr 2. Romania CSC
Bucharest - Mojo Music Club Strada Gabroveni 14
Bucharest - Half Time Pub Strada Gabroveni 14. Romania CSC
Russia
Sakhalin Island - Mishka Pub Chehova St. Yuzhno-Sakhalinsk CSC, If Yuzhno the History CSC
Moscow - Katie O'Shea's Irish Bar Prospekt Mira, 26, стр. 5. Moscow CSC
Scotland
Aberdeen - Regent Bridge Bar 30 Regent Quay. Bishop Crosas CSC
Aberdeen - The Gilcomston Bar, Gilcomston Steps. Grampian Emerald CSC
Airdrie - Cellar Bar 79 Stirling Street. Airdrie Neil Lennon CSC & Wullie Gorman CSC
Airdrie - Imperial Bar 110 Stirling St. Airdrie Airdrie Neil Lennon CSC
Alexandria - Riverside Inn 480 Main Street. Renton CSC
Alloa - Peppe's Bar 12 Mar Place. Roy Milne CSC & St Mungos CSC
Arbroath - The Central Bar 3 Brothock Bridge. Arbroath CSC
Ardrossan - Castlehill Vaults 2 Princes Place. Ardrossan and Dalry CSC
Auckinleck - Market Inn 215 Main Street. Cumnock and District CSC
Ayr - The Market Inn 2 Castlehill Road. Michael Davvitt CSC, Ayr Bhoys CSC & Ayr Emerald CSC
Balloch - Fentons Bar, 174 Main Street. Balloch Brigada CSC
Balloch - Dog House, 54 Balloch Road. Paradise 95 CSC
Bannockburn - Newmarket Inn, 25 Newmarket. Bannockburn CSC
Bathgate - Glenmavis Tavern, 51 Gideon St. Bathgate Shamrock CSC
Bathgate - St Anthony's Social Club, 51A South St, Arndale. Arndale CSC
Bellshill - Franklyn's Bar 14 Hamilton Road.
Bellshill - Mooney's Bar, 160 Main Street. Bellshill and District CSC & Mossend Emerald CSC.
Bellshill - Cesars Bar 800 Old Edinburgh Road. Bothwell Emerald CSC
Blantyre - Village Bar 144 Station Road. Blantyre Commercial CSC
Brechin - The Park Bar 21 Park Road. St Fergus CSC
Broxburn - Buchan Arms 2 West Main Street. Broxburn and Uphall Emerald CSC
Broxburn - Oatridge Hotel and Restuarant, 2-4 E Main St. Uphall Shamrock CSC
Buckie - Harbour Bar 83 Main Street
Caithness - Crown Bar 95 High Street, Wick. Wick CSC
Caldercruix - The Clansman Inn 13 Dunbreck Avenue. Caldercruix CSC
Cardenden, Lochgelly - The Auld Hoose 77-79 Main St. John Thomson CSC
Carfin - Carfin Hibernian Social & Recreation Club Torridon Ave, Newarthill. Torridon CSC
Chapelhall - Railway Inn 98 Lauchope St. Chapelhall Shamrock CSC
Cleland - Kelly's Bar 70 Main Street. Jimmy Delaney CSC, Cleland Bhoys CSC
Clydebank - Chandlers 2 Kilbowie Rd. Anton Rogan White CSC
Clydebank - The Goldenhill Glasgow Road. Hardgate CSC
Coatbridge - Coatbridge Columba Club 8 St John Street. Erin go Bragh CSC
Coatbridge - The Georgian Hotel Lefroy Street.
Coatbridge - The Big Tree 94 Whifflet St. Tommy Burns Coatbridge CSC & Big Tree CSC
Coatbridge - Old Eagle Inn 351 Bank Street. Airdrie Neil Lennon CSC
Coatbridge - La Ronde 141 Gartsherrie Rd. Coatbridge Shamrock CSC
Coatbridge - The Barnyard 1 Wallace St. Mick Hannaway CSC
Coatbridge - The Grange 1-2 Mayfield Pl. Shawhead Shamrock CSC
Cumbernauld - The Stables Lounge, Palacerigg Road. Cumbernauld Bertie Auld CSC
Cumnock - Empire Bar 3-5 Glasgow Rd, Muirkirk St. Thomas' Muirkirk CSC
Denny - Railway Hotel 2 Broad Street. Neil Mochan CSC
Denny - The Donner Inn 78 Stirling St. Denny Happy Bus CSC
Dumbarton - Dumbarton Harp Social Club 141 High St. Dumbarton Harp CSC
Dumbarton - Lennox Bar, 139 High Street. Evan Williams Dumbarton CSC
Dumfries - Spread Eagle Inn 5 Galloway Street. Dumfries CSC
Dundee - Kelly's Bar High Street
Dundee - Sandy's Bar 16 Liff Road. Lochee No1 CSC
Dundee - Airlie Arms 10 Dundonald St. Dundee Travel Club
Dundee - The Whip Inn 132 Liff Rd. Lee Walker CSC
Dundee - Hilltown Bar (Formerly Shakespeare Bar) 271 Hilltown. Dundee Emerald CSC
Dunfermline - East Port 7 East Port. Dunfermline CSC
Dunoon - The Burgh Bar, 47 Queen Street. Bobby Hollywood Dunoon CSC
East Kilbride - Mo Chara Basement, 2 Montgomery Street. East Kilbride Celtic Symphony CSC, East Kilbride Paul Abrams CSC, & East Kilbride Shamrock CSC, Norrie Slaven CSC
East Kilbride - Calderwood Inn, 163 Maxwellton Ave. Norrie Slaven CSC
Easterhouse - The Bridge Inn, 31 Easterhouse Rd. Easterhouse Emerald CSC, Swinton Shamrock CSC.
Edinburgh - Waverley Inn, 8 Southhouse Broadway . Waverley CSC & Edinburgh No1 CSC
Edinburgh - Malones Edinburgh, 242 Morrison Street. Brother Walfrid CSC
Edinburgh - Kitty O'Shea's, 43B Frederick Street.
Elgin - Kirkie Bar Main Street. Moray Emerald CSC
Erskine - The Eriskyne 1 Bargarran Rd. Erskine and Renfew CSC
Eyemouth - The Contented Sole, Old Quay, 3 Harbour Road. Eyemouth & District CSC.
Falkirk - The Auld Vic 75 Grahams Rd. Falkirk Shamrock CSC, Falkirk St Mungos CSC
Forfar - Victoria Bar 55 Dundee Loan St. Fergus Forfar and District CSC
Fraserburgh - Elizabethan Lounge 36 Union Grove. Buchan Bhoys CSC
Galashiels - Reivers Sports Bar / Paradise Rooms 69 High Street. Galashiels CSC
Glasgow - Kerrydale Bar,  Celtic Park, Kerrydale St
Glasgow - Celtic Sports Bar, Kerrydale St
Glasgow - Tolbooth Bar 11 Saltmarket. Tuatha de Dannan CSC
Glasgow - Tall Cranes 10-12 Craigton Rd. Govan Emerald CSC
Glasgow - MJ Heraghty Bar 708 Pollokshaws Rd. Dean Park CSC
Glasgow - Vogue Bar 49 Main St, Rutherglen. Bobby Murdoch Rutherglen Vogue CSC
Glasgow - MacConnell's Bar 335 Hope St. MacConnell's CSC
Glasgow - Don McNamara's Pub, 468 Sauchiehall Street. Don Mac's CSC
Glasgow - The Rams Head 1969 Maryhill Rd. Tony Mowbray CSC
Glasgow -  Queens Park Cafe 530 Victoria Rd Glasgow. Sons of Donegal CSC
Glasgow - Smiddy Bar, 309 Dumbarton Rd, Partick. Glasgow University CSC
Glasgow - Tennents Bar 191 Byres Rd
Glasgow - McNeill's Bar 106 Torrisdale St
Glasgow - Jinty McGuinty's Irish Bar 29 Ashton Ln
Glasgow - Argosy Lounge Bar 2202 Paisley Rd West. Argosy Harp CSC
Glasgow - Bells Bar 143 Springburn Way. Springburn CSC
Glasgow - McChuill's 40 High Street
Glasgow - Connollys Irish Bar 45 Bell St
Glasgow - Murphy's Bar, 14 Bell Street
Glasgow - Grace's Bar, 16 Candleriggs
Glasgow - Real McCoy 1281 London Rd
Glasgow - The 1888 Bar (Formerly Turnstiles Bar), London Road, Parkhead
Glasgow - Celtic Social Club 1524 London Rd. Celtic Supporters Association, Johnny Gallagher No1 CSC
Glasgow - The Strathspey Bar, 1106 Tollcross Rd. East End Rising CSC
Glasgow - Oak Bar 70 Springfield Rd
Glasgow - Springfield Vaults Springfield Rd
Glasgow - Braemar Bar 147 London Rd. Johnny Cash Man in Black CSC
Glasgow-  Old Black Bull 1316 Gallowgate. East End CSC
Glasgow  - Brazen Head 1 Cathcart Rd. James Stokes VC CSC
Glasgow - The Squirrel Stevenson St. Barrowfield Shamrock CSC & Dicey Reilly CSC
Glasgow - Chrystal Bell, 31 Gallowgate. Saltmarket CSC.
Glasgow - Hoops Bar 283 Gallowgate. Hoops Bar CSC
Glasgow - Bar 67 257 Gallowgate. Gallowgate Travel Club
Glasgow - Wee Mans Bar 429 Gallowgate. Dennistoun CSC & Wee Mans Bar CSC
Glasgow - Saracens Head 209 Gallowgate
Glasgow - Hielan Jessie 374 Gallowgate
Glasgow - The Mulroy Bay Snooker Club, 2377 Paisley Road West
Glasgow - The Sun Inn, 283 Hamilton Road, Cambuslang. Cambuslang Athenry CSC
Glasgow - The Lawburn Inn 100 Western Road, Cambuslang. Peter Kerr CSC. Whitlawburn Eastfield
Glasgow - Olivers Bar 20 Drumchapel Road. Drumchapel No1 CSC
Glasgow - Crow Tavern, 118 Kirkintilloch Rd, Bishopbriggs. Eddie Duffy No1 CSC
Glasgow - Quin's Bar 130 Kirkintilloch Road, Bishopbriggs.
Glasgow - The Brig Inn 141 Cross Arthurlie St, Barrhead. Barrhead Mick McCarthy CSC & Barrhead St Mary's CSC
Glasgow - The Tavern Bar 194 Tollcross Rd. BelvIdere CSC
Glasgow - Chapmans Bar 251 Main St, Rutherglen
Glasgow - Gallaghers Bar (Formerly Kelly's Bar) 72 Howard Street
Glasgow - Star & Garter 687 Garscube Rd. Maryhill. Bertie Auld CSC
Glasgow - Muirhead Inn 140 Cumbernauld Rd, Chryston. Cumbernauld. Peter Johnstone CSC
Glasgow - Beechwood 156-164 Ardmay Cres, King's Park. Kings Park CSC, Pat Anderson Castlemilk CSC
Glasgow - Hazelwood Bar & Function Suite 380 Nitshill Rd. Cavendish 7-1 CSC
Glasgow - The Rams Head 1969 Maryhill Rd. Tony Mowbray CSC
Glasgow - Smiddy Inn Ben Lawers Dr, Cumbernauld. Eastfield Emerald CSC
Glasgow - Dolphin Bar 157 Dumbarton Rd, Partick. Whiteinch CSC
Glasgow - Anvil Bar 202 Smithycroft Road, Riddrie. Barmulloch CSC, Peter Flaherty CSC
Glasgow - Victoria Bar 400 Victoria Road, Lanark
Glasgow - The Inn Balmore Road. Emerald Inn CSC
Glasgow = The New Oasis, 41 Dougrie Drive, Castlemilk. Castlemilk CSC
Glasgow - The Mulroy Bay Snooker Hall & Bar, 2377 Paisley Road West. Mulroy Shamrock CSC
Glasgow - The Garngad Bar, 61 Royston Square. Garngad Millburn CSC, Glenbarr CSC
Glasgow - The Morvern Lounge, 361 Edgefauld Road, Balornock. Tel Bhoy No7 CSC
Glasgow - Sheddens Bar, 641 Shettleston Rd. Tollcross Kimberley CSC
Glasgow - Brodens Bar, 22 Main Road, Cumbernauld. Condoratt No1 CSC
Glasgow - Thistle Bar, 70 Main DSt, Baillieston. Bailleston Batallion.
Glasgow - Wintersgill Bar, Great Western Road. Neil Lennon 18 CSC
Glasgow - Gordons Bar, 1159 Royston Road, Provanmill. Gordons Bar CSC
Gourock - Royalle Social Club Royal St. Gourock Emerald CSC
Grangemouth - Cesars Paradise, 85 Dalgrain Road. Grangemouth No1 CSC
Greenock - Greenock Celtic Supporters Club 16 Laird Street. Greenock CSC
Greenock - Black Cat Laird Street. Greenock Shamrock CSC, Johnny Doyle CSC
Greenock - The Carnock Bar, 2 Carnock St. Paddy Mulligan CSC
Greenock - Green Oak, 8 Inverkip St. Greenock Shamrock CSC
Greenock - Tail o' the Bank, East India Harbour, Rue End St. Neil Lennon CSC
Greenock - Loreto Club Houston Street. Greenock Travel Celtic Club
Haddington - Plough Tavern 13 Court St. Haddington CSC
Hamilton - Doherty's Bar 33 Castle Street. Jimmy McGrory CSC
Hamilton - Hemingways 1-3 Keith St Hamilton. Roll of Honour CSC
Hawick - Station Bar 1 Laing Terrace. Hawick Shamrock CSC
Helensburgh - Station Bar 24 E Princes St. Helensburgh No1 CSC
Holytown - White House 17 Main Street. Holytown CSC
Inverness - Gellians Bar 14 Bridge Street
Irvine - The Irvine Number One Celtic Sports Club Bridgegate. Irvine No1 CSC
Isle of Barra - Castlebay Hotel Castlebay. St Barr's CSC
Isle of Benbecula - Dark island Hotel Liniclate
Isle of Skye - Antlers Bar & Grill, Portree Hotel, Somerled Square. Isle of Skye CSC
Johnstone - 20:10 Bar 12 Collier St. Spateston No1 CSC
Johnstone - Thorn Inn 28 Thornhill
Johnstone - Nip Inn 9 Houstoun Square
Kilbirnie - Ramage's Bar, 1-3 Newton St. Paradise No1 CSC
Kilmarnock - The Tartan Sheep, 4A John Finnie Street.
Kilsyth - Coachman Hotel 4 Parkfoot St. Kilsyth Shamrock CSC & Croy CSC
Kirkcaldy - Weavers Bar and Lounge, Katherine Street. Joseph Rafferty CSC
Kirkintilloch - McGinley's Bar 14 Eastside
Kirkintilloch - Chase Inn, 93 Merkland Drive. Kirkintilloch CSC
Larkhall - Machan Vaults, 8 Muir Street. Larkhall CSC
Lennoxtown - Commercial Inn 128 Main Street. Lennoxtown CSC
Leven - McPhails, North Street. Leven Emerald CSC, Jock Mears Methil and District CSC, Levenmouth Bhoys CSC & Den Inn CSC
Linwood, Paisley - Peter Scarff Celtic Supporters Club, Candren Rd. Peter Scarff Linwood CSC
Livingston - Livingston Inn 2 Main Street. Livingston Emerald CSC
Livingston - Tower Bar The Mall. Craigshill Shamrock CSC
Lochgelly - The Old Ship Inn, High Street. Arthur McKenna CSC
Lochgelly - Torleys Bar 38 High St. Rising Phoenix Lochgelly CSC
Montrose - Lochside Bar 84 N Esk Rd. Montrose CSC
Moodiesburn - Knights Of St Columba Blackwoods Cres. Moodiesburn CSC
Motherwell - The Railway Tavern 31 Merry St. Notre Dame CSC & Motherwell 9 in a Row CSC.
Nairn - Jackos Bar and Diner, 44 Harbour Street.
Neilston - Killoch Bar, 89 Main Street. Alex McCabe Neilston CSC
Newmains - Robins Bar, 52 Abernethyn Road. Newmains Shamrock CSC
New Stevenston - Red Lion, 46 Jervison St. Stephen Logan CSC, New Stevenston CSC
Oakley - The White Gates, 2 Main St, Comrie. Oakley CSC
Oban - Tartan Tavern, 3 Albany Terrace. Oban Emerald CSC & Oban No1 CSC
Orkney - Ayre Hotel, Ayre Road, Kirkwall. Orkney CSC
Outer Hebrides - Lochboisdale Hotel Isle of South Uist.  Uist CSC
Paisley - St Peters Mens Club 144 Braehead Rd. St Peters CSC
Paisley - The Wellington Bar, 98 Causeyside Street. Hay CSC
Paisley- Dubliner Bar, 3 St James' St. Davie Hay CSC
Peebles - The Crown Hotel 54 High Street.
Perth - Abbotsford Bar 11 Abbot St
Peterhead - Mayfair Bar 74 King Street. Buchan Bhoys CSC
Port Glasgow - Donnachies Bar 1 Scarlow Street. Port Glasgow Emerald CSC
Port Glasgow - Ancient Order Of Hibernian 13 Clune Brae. Port Hibs CSC
Prestonpans - Prestonpans Labour Party Social Club 5 Kirk Street. Prestonpans CSC
Renfewshire - River Inn Houston Rd, Crosslee. St Brendans CSC
Saltcoats - The Elms Bar 21-23 Raise St. Ardrossan Garyowen CSC, North Ayrshire CSC, Saltcoats & District CSC
Shetland - Lerwick Legion, 72 Commercial St. Lerwick Shetland CSC
Shotts - The Brandy 7 Main Street St. Patrick's Shotts CSC & Kevin Barry Shotts CSC
Stenhousemuir - Warriors Social Club, Tryst Road. Roy Aitken Stenhousemuir CSC
Stirling  - Vinnys Bar 117 Drip Rd. Tommy Craig CSC, Vinney's Bar CSC
Stirling - Stirling Civil Defence Club, 2 Craigend Road. Paul McStay No1 St Ninians CSC
Stornoway  - Stornoway Sea Angling Club South Beach Quay. Stornoway Saltire CSC
Thurso - Top Joe's 16 Traill St. Thurso CSC
Tranent - The Tranent Arms, (The Keepers) 1 Bridge Street. Tranent CSC
Uddingston - Angels Hotel 114 Main St. Anvil Bhoys CSC
Uddingston - The Windmill 4 Thorniewood Rd. James Connelly Johnstone CSC
Wick - Blackstairs Lounge 20 Breadalbane Terrace
Wishaw - King Lud 9 Craigneuk St Craigneuk. Tommy Gemmell CSC
Wishaw - Cross Keys Inn 26 Stewarton St. Wishaw Emerald CSC
Yoker - The Lovat, 2560-2562 Dumbarton Rd. John Casey Yokermill CSC
Singapore
Singapore - Muddy Murphy's Irish Pub, 442 Orchard Road. Singapore CSC (Sing Tims)
South Africa
Cape Town - Cube Sports Bar 261 Main Rd, Sea Point. Cape Town CSC
Johannesburg - Grand Slam Sports Diner, Cnr Elm & Sycamore Drive, Dowerglen Edenvale. Johannesburg CSC
South Korea
Itaewon - The Craic House, 4th Floor, 72-32 Itaewon-dong, Yongang-su. Seoul CSC
Spain
Albatara - Albatera CSC, Partido el Moco, Poligono 3, no 140
Alcúdia - Shamrock Irish Pub Carrer de la Torreta, 3
Alicante - Paddy's Point Irish Bar 13, Calle Flores, C.C Zeniagolf, Local, La Zenia. Paddy's Point CSC
Alicante - Austin Bar, Carrer Llauradors 6, Alicante CSC
Alicante - Miley O'Rourke's Irish Bar, Av de Noruega, Alacant. Yogi Hughes CSC.
Alicante - The Emerald Isle, Urbanizacion La Florida, Calle Marte
Almeria - El Duende de las Tapas, C. la Fuente, 8, 04638 Mojácar. Mojacar Marc Crosas CSC
Barcelona - Michael Collins Plaça de la Sagrada Família, 4
Barcelona - Flaherty´s Irish Pub Plaça de Joaquim Xirau, s/n
Benalmádena - Lewis Bar Avda Antonio machado 35 Centro commercial ole local 18. Lewis Bar CSC
Benalmadena - Lynch's Bar, Avda Antiono machado 35.
Benidorm - The Thistle Bar Carrer de la palma, 6
Benidorm - The Bodhran Irish Bar Avenida del Doctor Orts Llorca, s/n. Benidorm CSC
Benidorm - Shamrock Irish Pub 22, Calle Gerona. Benidorm CSC
Benidorm - Henrik's Pub, Av del Mediterraneo
Bilbao - Bar Negresko, Plaza Nueva.  Bilbao Bhoys CSC
Cala D'or - Tropical Garden, Carrer de s'Espardell, 9.
Cala D'or - Molly's Irish Bar, 4 ES Forti, Cala Egos.
Catral - Sheerins, C la Purisima 68
Girona - McKiernans Bar Rambla de la Llibertat
Granada - Hannigan and Sons, C .Cetti Meriem 1.
Guardamar - Hoops Bar Guardamar Carrer Garcia Lorca, 3. Guardamar No1 CSC
Ibiza - Flaherty's Bar, Avinguda del Doctor Fleming, 3, 07820 San Antonio
Las Palmas - Dicey Reilly, 35130 Puerto Gran Canaria. Dicey Reilly CSC
Madrid - Paddy's Irish Pub Av. de Concha Espina, 69. Madrid Emerald CSC
Malaga - Morrissey's Irish Pub, C Mendez Nunez 5
Maspalomas Las Palmas - Patrick's Bar, Calle San Cristóbal de la Laguna, 0 S/N, 35100
Menorca - Sixty One Irish Pub, Av los Defines, Illes Balears
Murcia - BT 15 Irish Pub, Calle Penelope 22, Los Alcazares
Nerja - The Beer Garden alle Valdivia, Av. Mediterraneo, 1
Nerja - Murphy's Irish Bar, C/Huertos, 53.
Orihuela - The Celtic Drop, Playa Flamenca, Commercial Centre.
Palma - Finnegans Can Pastilla, Carrer de Virgili 14
Palmanova - The Scotsman, c/Martin Ros Gracia 5-bajo
Playa del Ingles - The Red Cow and Shenanigans, Avienda Alfereces Provisionales Shopping Centre Prisma
Playa del Ingles - The Irish Tavern, C Malaga 26, San Bartolome de Tiranjana
Puerto Pollensa - Cafeteria Bon Dia, Carrer del Bot 6.
Sa Como - Pogue Mahone Irish Bar, Avinguda de les Savines, 92
Salou - Dubliner Bar Autovia de Tarragona a Salou, 6, 43840
Salou - Murphy's Bar 3, Carrer del Penedès. Salou CSC
Santa Ponsa - Celts Well Carrer Huguet des Far, 26-32. Celts Well CSC
Santa Ponsa - Flamingos Irish Pub Carrer de Ramon de Montcada, 32
Santa Ponsa - Kelly's Bar, Carrer de Santa Ponsa 17,
Santa Ponsa - The Starry Plough, Carrer Huguet des far.
Santa Ponsa - Shamrock Bar, Ramon de Moncada 27
Torremolinos - The Bailey Irish Pub, C Dona Maria Barrabino
Valencia - O'Riordans Bar Avenida del Cabo, Orihuela. O'Riordans CSC
Valencia - St Patricks Gran Via del Marqués del Túria, 69. Valencia St Pats CSC
Xabia - The 32, Carrer Andres Lambert 7. Xabia CSC
Sweden
Gothenburg - Nordic Sportsbar, Molndalsvagen 95. Gothenburg CSC
Gothenburg - The Flying Barrel Kristinelundsgatan 3
Malmo - Fagans, Per Weijersgatan 4. Malmo CSC
Stockholm - The Auld Dub Holländargatan 1. Stockholm CSC
Switzerland
Berne - Mr. Pickwick Wallgasse. Switzerland CSC
Geneva - Mulligans Irish Bar, Rue De Grenus 14. Geneva CSC
Lenzburg - McArthurs Pub Kirchgasse 28. Switzerland CSC
Thun - McArthurs Pub Marktgasse 12. Switzerland CSC
Zurich - O'Callaghan's Shamrock Irish Pub, Studackrerstrasse 1. Switzerand CSC
Thailand
Bangkok - O'Shea's Irish Pub & Hotel (Herrity's) 595/16/17/18.19 Soi Sukhumvit 33/1, Khwaeng Khlong Tan Nuea. Bangkok CSC
Ko Samui - Tropical Murphy's Irish Pub & Restaurant 14/40 Chaweng Beach Rd Moo 2 Chaweng
Koh Samui, Surat Thani - Moby Dick Irish Pub & Guesthouse 168/37 2, 12/2 Samui, Mae Nam
Krabi - The Irish Embassy, 233 moo 2, Prae Ae, Sala Dan, Ko Lanta District.
Pattaya - The Rock House, 33/12 Soi L K Metro. Pattaya No1 CSC
Phuket - Karon Aussie Bar 601/15 Patak Rd, Ban Karon
Phuket - Irish Bar Patong, 59/1-3 Sainamyem Road, Kathu District, Patong
Surat Thani - SOHO 44/56 Moo1 Thong Sala, Koh Phangan
Surat Thani - Kelly's Tavern, F27V+GFM Maret, Ko Sumai District.
Turkey
Altinkum - Jack Valentine's, Yenihisar Aydin.  Didim CSC
Antalya, - Paradise Restaurant Selçuk mah, İskele Cd. No 42
Bodrum - O'Connors Bar Adman Menderes Caddesi No26 -B-2 Gumbet
Fethaye - Mirage Bar Pulur, 62900 Ovacık/Tunceli,
Istanbul - U2 Istanbul Irish Pub Şehit Muhtar Mahallesi, Bekar Sk. No:21, 34435 Taksim ,Beyoğlu/Beyoğlu.
Marmaris - Tierna's İrish Bar Çıldır Mahallesi, 180. Sk. No:23
Marmaris - Parkhead Bar (Celtic Park) Armutalan Mahallesi, Yunus Nadi Cd. No:30
United Arab Emirates
Abu Dhabi - Ma Buckley's, The Souk Qaryat Al Beri. (Between the Fairmont and Shangri La hotels) Abu Dhabi CSC
Dubai - McGettigans, Convention Tower, World Trade Centre, Sheikh Zayed Road. Dubai Hoops CSC
United States of America
Atlanta - O'Sullivans Irish Pub, 111 Sycamore Street, Decataur. Atlanta CSC
Atlanta - The Elder Tree Public House, 469 Flat Shoals Ave SE. Fulton County Fenians CSC
Boston - The Banshee 934 Dorchester Ave. Boston No1 CSC
Chicago - A. J. Hudson's Public House 3801 N Ashland Ave. Chicago CSC
Charleston - Madra Rua Irish Pub, 1034 E Montague Avenue. Holy City CSC
Dallas - Blackfriar Pub, 6341 La Vistra Drive. Lone Star CSC
Detroit - Collect Beer Bar, 1454 Gratiot Ave. Detroit CSC
Houston - The Phoenix on Westheimer 1915 Westheimer Rd. Houston Bobby Lennox CSC
Houston - Stats Sports Bar and Grill 10850 Louetta Rd #1700. Houston Emerald CSC
Los Angeles - Joxer Daly's 1168 Washington Blvd, Culver City. Los Angeles CSC
Massachusetts - Irish Brewing Boston, 83 Morse Street, Norwood. Freedom's Sons CSC
Miami - Auld Dubliner Irish Pub, 91 NW 1st St. Miami CSC
New Jersey - Scots American Club, 40 Patterson Street, Kearny. Kearny CSC
New Orleans - Finn McCool's Irish Pub 3701 Banks St. New Orleans CSC
New York - Jack Demsey's 36 West 33rd Street. Manhattan No1 CSC
New York - McHales Bar and Grill, 251 W51st St. New York CSC
New York - The Whistlin' Donkey 641 McLean Ave, Yonkers. Bronx Bhoys CSC
New York - Luke Kelly's Bar 49-04 69th St, Woodside, Queens. Woodside CSC
Ohio - Fadó Irish Pub 4022 Townsfair Way, Columbus. Columbus CSC
Ohio - P.J. McIntyre's Irish Pub 17119 Lorain Ave, Cleveland. Cleveland CSC
Orlando - Lucky Leprechaun Irish Pub 7032 International Drive. Orlando CSC
Philadelphia - Fado Irish Pub 1500 Locust St. Philadelphia Fado CSC
Philadelphia - The Plough & the Stars 123 Chestnut Street Entrance on 2nd St. Philadelphia Ploughbhoys CSC
Phoenix, Arizona - The Desmond Spirits and Oven, 1 N 1stSt #103. Bobby Murdoch Phoenix CSC
Pittsburgh - Cork Harbour Pub, 181 43rd Street. Pittsburgh CSC
San Diego - Bluefoot Bar, 3404 30th St. San Diego CSC
San Francisco - The Abbey Tavern 4100 Geary Blvd. San Francisco Brothers across the ocean CSC
San Francisco - Fiddlers Green 333 El Camino Real, Millbrae. San Francisco CSC
St Petersburg - Mary Margaret Olde Irish Tavern, 29 3rd St N. St Pete's Shamrock CSC
Tennessee - Alliance Brewing Co, 1130 Sevier Ave, Knoxville. Scruffy City CSC
Texas - Kelly's Irish Pub, 519 W Oltorf  St, Austin. Stevie Chalmers Austin CSC
Washington - Irelands Four Courts, 2051 Wilson Blvd. Arlington. Washington D.C CSC
Wildwood New Jersey - Anglesea Bar 116 W 1st Ave, Wildwood. Anglesea CSC
Vietnam
Hanoi - Bia Hoi Ha Noi, 15 Trinh Cong Son. Hanoi CSC
Hội An, Quảng Nam - Paddy's Hostel & Sports Bar 97 Cửa Đại, Cẩm Sơn
Vung Tau - Paddy's Bar, 22 Quang Trung
Wales
Cardiff - Rummer Tavern 14 Duke St. South Wales CSC
Swansea - Jack Murphys, 5 Wind Street. John Hartson CSC
Wrexham - Hill St Wrexham, 10 Hill St. North Wales CSC