Celtic Supporters Clubs are the lifeline of Celtic FC. This page is dedicated to the CSC's of yesteryear who have played their part throughout the illustrious history of our club. The clubs listed are ones I don't have listed on my site anymore. If any are still on the go, let me know and I will put them on my CSC page. Here's to a trip down memory lane.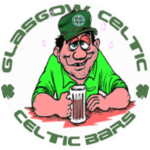 On my Celticbars site I have 449 CSC's listed. Going through my data base collated over the last 20 years, there is a further 215 CSC's which have went to the Great Bus Park in the Sky. A total of 664 supporters clubs have 'passed through the Celticbars gates' since I started in 2001. The CSC's listed at the moment are all active and spread over 44 countries. To find your nearest club, have a look here.
Supporters Clubs play a huge role in our Club. They are great to be part of if you move to a new place and want to meet new friends. Several generations of families continue to keep their CSC traditions going. Young children come onto a bus and feel part of the club. They grow up learning the stories and history of Celtic FC and their CSC. They in turn keep that tradition going when they have children of their own, whilst taking their auld da' with them who started the ball rolling for them. 
One of the reasons I never publicise illegal streams for example, is if someone is in New York, I would rather recommend bars with a CSC's connected to them rather than a random bar. North American clubs pay a lot of money for Celtic TV. Most have a cover charge to make it affordable and possible. They deserve the custom from visitors, who in turn buy their merchandise and raffles, thus ensuring the continued running of the CSC. This also attracts new members who have recently moved into the area.
Special mention to all those who give up their own time to help run the CSC's. It is hard work but very enjoyable. To organise anniversary functions which attracts current and former players leaves a lasting memory for all those attending. The chance to hold the trophies provides special moments as we have seen recently with families getting their photos with the treble. With social media, this publicity further enhances the clubs reputation.
Brake Clubs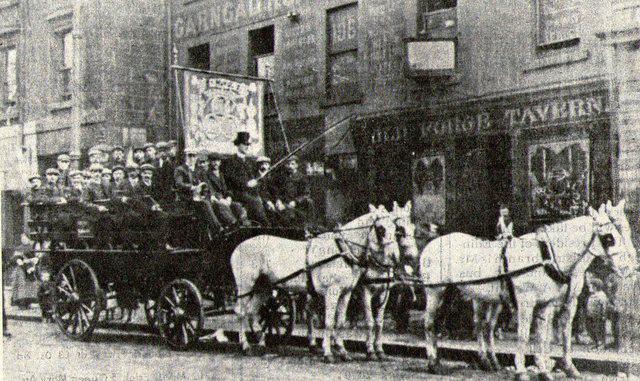 Supporters Clubs go way back to the very existence of Celtic FC. The first CSC's were Brake Clubs, named after the horse drawn carriages which carried up to 25 fans. These would mostly be restricted to travelling to the Glasgow area and towns like Greenock and Dumbarton. They have left a great legacy with their splendid painted banners with their current favourite player in the middle. Often the player would be painted over with their latest star. One of these banners hung proudly in Baird's Bar for years. This was auctioned at McTear's in 2003 but never met the reserved asking price. A brilliant memorabilia for someone one day.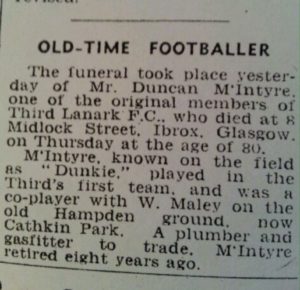 Brake Clubs would meet at The Gorbals then proceed in convoys to Paradise. Given the sign of the times, these horse drawn charabancs were full of working men having their escape from the harsh realities of their job and life in general. They were noisy and often alcohol fueled. I would imagine pishing in the street wasn't exclusive to the horses. I often wonder if my family were on these wagons. My Great Granny was born in East Rose Street and was living there in November 1887 when Brother Walfrid had the first meeting. From old Glasgow maps, her house was one of the closest to St Mary's Hall. We have tried to find out, to no avail, if any of our family were at that first meeting. We like to think they were. As an aside, my Great Granny married Duncan McIntyre who was an original member of Third Lanark FC and who was a team mate of the great Willie Maley. Duncan was once described as the one of the finest strikers in Scotland. He had an obituary in the papers 50 years after he played. Oh to have met him and listened to his stories.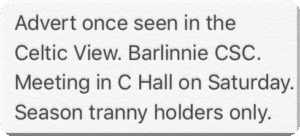 By the 1920s, the Brake Clubs were in a decline. The popularity of cars and trains made independent travel to games easier and more convenient. The Celtic bars in The Gallowgate would still have been an important part of early supporters clubs. Bars in The Gallowgate in the '20s & '30s included Cairns Bar, Cocky Borrs Bar, The Whitevale Bar, The White Elephant, The Wee Mans and The Victory Bar. Various members of Celtic FC were publicans in that area at that time. John Campbell owned a pub at 322 London Road at the corner of Boden Street in 1907 called the Villa Bar. Patsy Gallagher owned a bar at 42-44 Fulbar Street, Renfrew in1920 then took over the International Bar, Clydebank in 1925. James Grant owned The Grant Arms at 19 Argyle Street and Sandy McMahon owned The Duke Bar, 209 Great Eastern Road.



Celtic Supporters Clubs have always had a political side of things. Back in those days they would fly banners in support of Trade Unions and Irish Nationalism. The noise of a convoy of Brake Clubs, with the horses hooves on the cobbled stones and fans with their flags, horns and bells made sure they were heard. This lead to violence on occasions as sectarianism reared its ugly head. The other reason for the demise of the brake clubs was that so many of them were involved in attacks on the way to/after games that there was a major police crackdown on them.  Celtic (through Willie Maley) were publicly critical of the 'gangsters' in the brake clubs.  There's lots of newspaper articles from the 20s and 30s of brake clubs getting stopped on the way to Rangers games and all sorts of weapons being found on them.
Life after brake Clubs. 1940s
Towards the end of the War, football was slowly coming back on the radar with men returning from the conflicts. Football would soon be booming again with huge crowds and a renewed enthusiasm to get back to the games. In September 1944, Willie Fanning wrote to the Daily Record asking for fans to get in touch with the view to starting a supporters club. Within 12 months, they had set up a constitution to amalgamate other CSC's which by then numbered over 700 members. The first project The CSA did was to kit out the Celtic Park ball boys with a uniform. The Celtic Supporters Association was formed. Greenock Shamrock CSC precede the CSA, but from the information I have, whilst not definitive, the oldest CSC's still in existence are
Greenock Shamrock CSC 1935
Celtic Association 1944
Greenock Branch CSC 1945
Kirkintilloch CSC 1945
Port Glasgow CSC 1945
Johnstone No1 CSC 1945
Bellshill & District CSC 1946
Bathgate CSC 1946
Holytown CSC 1946
Shotts CSC 1946
Peter Scarff CSC 1947
Larkhall CSC 1947
Springburn No1 CSC 1947
Carfin CSC 1948
Rawyards CSC 1948
St Peters No1 West Belfast CSC 1952
With regards to other organised groups, The Affiliation was the the brainwave of Eddie McCafferty and was formed in 1986. Peter Rafferty was also a huge influence with The Affiliation and he was a great help to me when I first started the Celticbars site. Other supporters groups include The North American Affiliation, The Celtic Trust and Central South Wales and West CSC.
Lisbon 1967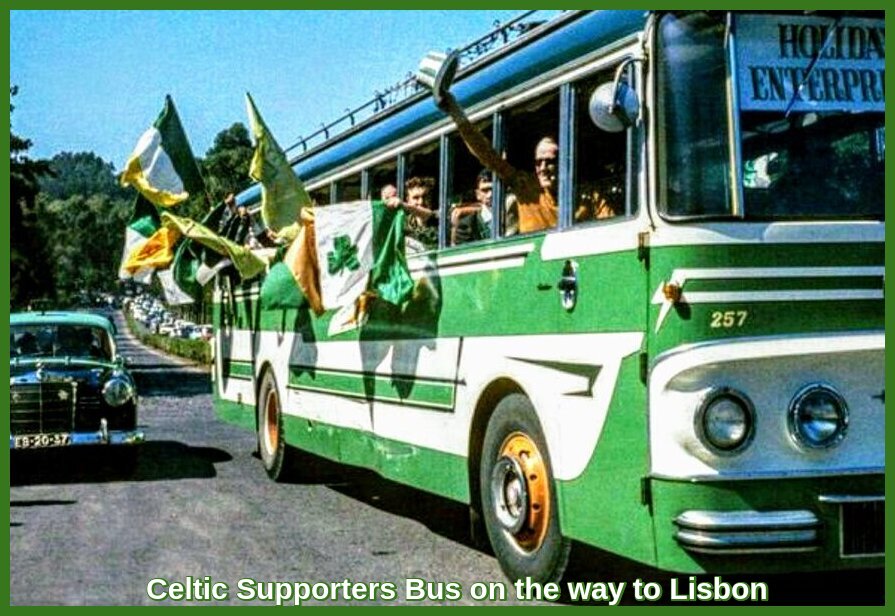 Celtic became the first non Latin team to win the European Cup. On qualifying for the final, thousands made plans to make Lisbon their own. 12,000 fans went by bus, train and plane. With these filled up, a cavalcade of highly decorated cars left Paradise for the long trip to Lisbon. It was the first mass exodus of Celtic supporters in those numbers as travel became more accessible. Those who travelled will never forget that momentous time. The homecoming at Celtic Park will also live long in the memory for those who were there. Parading the trophy on an old coal lorry was just pure gallus Celtic.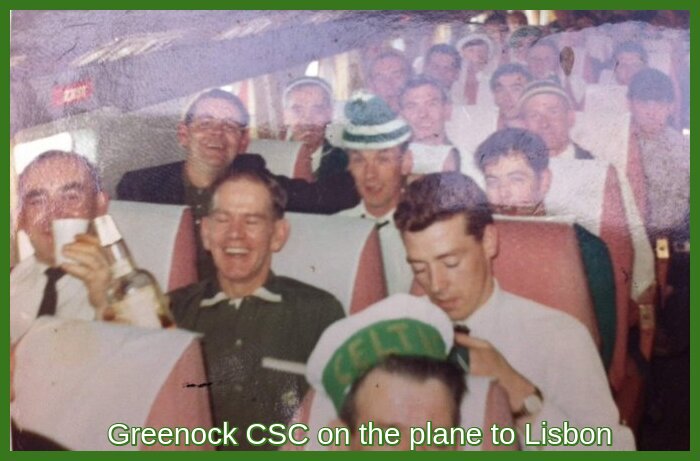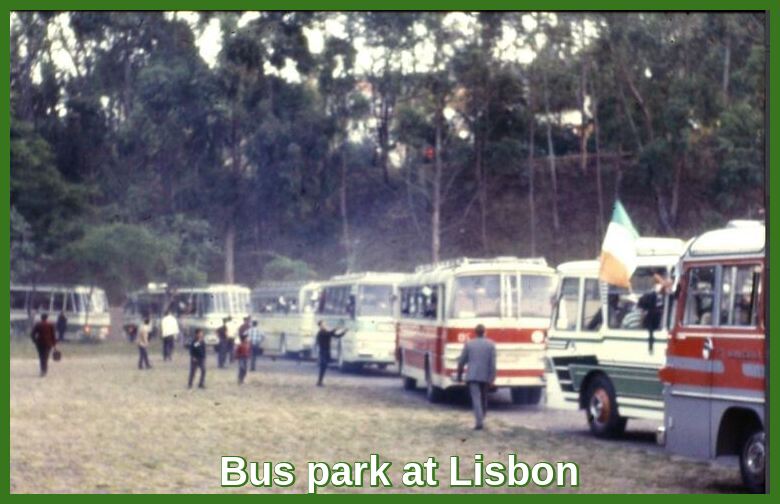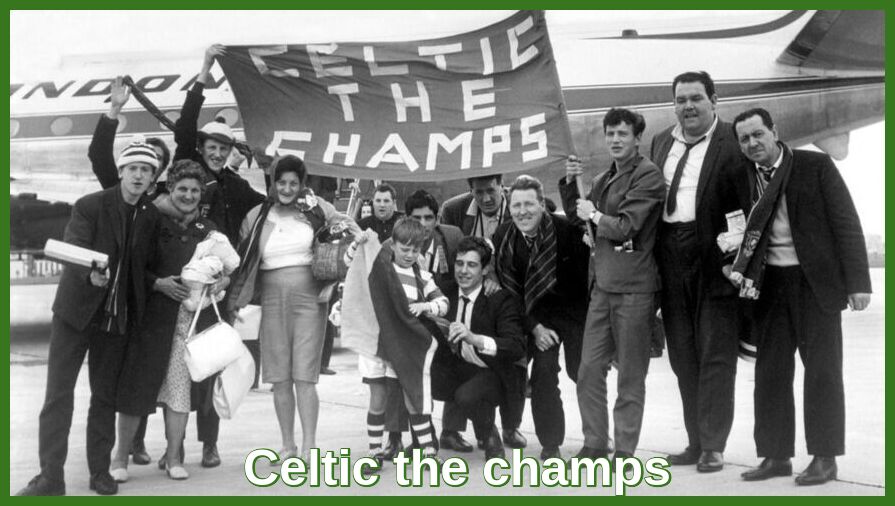 Looking at the years Celtic Supporters Clubs were formed, there seem to be four notable times when CSC's had a resurgence in formation.
The formation of Celtic FC and brake clubs,
Post War,
Lisbon
Centenary year.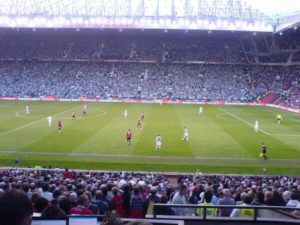 There have been other occasions in our illustrious history like Milan '70 and Seville '03 which also saw mass fan travel. In fairly recent times, we have seen many CSC's travel for Testimonials and European games. Barcelona, Munich, Rome, Giggs & Keane testimonials amongst those with tens of thousand going.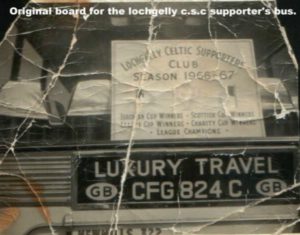 In the 80s, the supporters buses parked on both side of the Gallowgate. From up beside the old favourite Grange Bar, right down past The Bellgrove Hotel, where we would often be entertained by some of the residents playing their penny whistle for beer money. For those who jumped off their bus before it got parked to get to the pub early for a swally, this would mean fans wandering about after the game trying to find their bus. A fantastic CSC tradition is their club crest where one of the more sensible members of the bus would stand outside with the plaque held high. I used to love seeing all the clever designs. They would also publicise their CSC's to everyone walking by and getting their club known. Other traditions over the years was the local mini entrepreneur's offering to 'watch yer motor mister' Nowadays the young 'uns pocket money seems to have been replaced by older guys, which is sad to see. Supporters buses today now park at the stadium and Emirates Arena. A well known sight is the queue of Irish buses at the front. These are the ones that arrive first and who must leave as soon as they can to catch their ferries. Much respect to Irish supporters for their dedication.
CSC's Charity work

Since the inception of Celtic Supporters Clubs, charity has been at the heart of the very fabric of our club. Brake clubs would raise money for the poor and impoverished. They also raised funds for causes close to their hearts like Irish Oppression and Trade Unions. In recent times with the invention of social media and the vehicle to attract more donations and publicity, charity work has excelled and continues to do our club proud. We have seen clubs like Manhattan CSC after 911 raising funds for NYFD, New Orleans CSC helping rebuild after Hurricane Katrina, supporters doing The Huddle at the top of Ben Nevis, Thai Tims, Food banks, Celtic Foundation sleep outs and individuals like my good friend Iain McGovern walking the length and breath of the country for causes close to our hearts. In 2008, Martin Kane took unwell in Australia. The 'Bring Martin Home' campaign brought us the introduction of The Kano Foundation. I sit in 113 at the games and the Kano Kids are down to my left. It is a joy to see the enthusiasm of the children. One of the original trustees is John Paul Gilmartin. A very humble modest man, who I am proud to say was in my class at school. Kano's motto is 'Keeping football free for kids'. If you can help with this, please help them out here.
I would like to thank the following sites for their references that I used for these muses. Hope you enjoyed a wee look down memory lane.

Disbanded Celtic Supporters Clubs 
Any CSC's still on the go, let me know and I will alter this list.
(Year formed in brackets)
25th May 1967 CSC. (1999) Stanley Bar
33 Club Paisley CSC. (1947)
AOH Padraig Pearse CSC. (1978) Whip Inn Dundee
Airdrie West End CSC. (1983)
Allston CSC. (1997) Common Ground Bar, Massachusetts
Alnwickhill CSC (1992) Edinburgh
Anderson Emerald CSC.
Anjuna CSC. Nelsons Bar, Goa
Anton Rogan CSC. (1984) Pines Bar Cardonald
Anton Rogan Lurgan CSC. (1988) Master McGrath Arms, Edward St, Lurgan
Arydoyne Shamrock CSC.
Athenrye CSC. (1995) The Square Inn
Auchinairn CSC. Nairn Bar, Bishopbriggs
Baden CSC. The Claddagh Ring, Karlsruhe
Bahrain CSC. JJ's Irish Corner, Al Bustan Hotel
Ballybeg Branch No1 CSC (1995)
Ballybrack Shamrock CSC. (1987) Workmans Club
Ballybot CSC. (1996) Nan Rices Bar, Newry
Banknock CSC (1952)
Bannockburn CSC. (1974) Newmarket Inn
Barlinnie Dariusz Dziekanowski CSC (1989)
Barnet CSC. (1995) Port Moody
Barrie & District CSC. Alliance Bar, Barrie
Berlin No1 CSC. Dubliner Bar
Billy Halligan CSC. (1995) Lural Leaf Bar, Falls Rd, Belfast
Billy Stark Temple CSC. (1989) Signal Box Pub, Fulton St
Birmingham No2 CSC. (1978) Woodman Pub Hockley
Bishop Auckland CSC
Blackthorn CSC. One Foot Inn, Burnfoot
Bletchley CSC. Milton Keynes
Bob Kelly CSC. (1987) Anvil Bar, Riddrie
Brady's Cuchulainn Dundealgan CSC. (1995) Brady's Bar Dundalk
Breda Rats CSC. O'Meara's Irish Pub, Breda
Brian O'Neill No1 CSC. (1987) St Peters Men's Club, Paisley
Brother Walfrid CSC. Craigavon
Burghead Shamrock CSC. Red Craig Hotel, Forres
Burlington CSC. (1993) Tommy Doolittles Bar, Burlington Ontario
Cadzow Emerald CSC. (1996) Auld Hoose Pub, Hamilton
Cairn CSC. (1969) CSA Northern Area Social Club, Springburn
Calgary CSC. Burns Howff, Cambridge
Cambridge Shamrock CSC. (1995) Rathmore Club
Cambusnethan CSC. Wishaw
Caravel CSC.(1985)  Caravel Bar
Cardonald No1 CSC. (1982) Howdens Bar
Carfin Jock Stein CSC. (1994) Wattfield Bar
Carluke Shamrock CSC. (1987) The Courtyard Bar
Carmyle CSC. (1988) Banks Bar
Castle CSC. (1974) Castle Bar Glasgow
Castle Douglas CSC. (1974) Blue Bell Hotel.
Celtic Cross Dennistoun CSC.
Centenary No1 Cambuslang CSC. (1986) Ogilvie Centre
Chris Morris CSC. (1988) Port Glasgow
Clydebank & Old Kilpatrick CSC (1946) Unity Club
Coatbridge Fighting Irish CSC. (1995) The Blarney Stone
Condorratt CSC. (1985) Masonic Arms
Corby 67 CSC. (1993) St Brendan's CC
Corby Emerald CSC. (1978) Domino Inn
Courtney McKenzie CSC. Ferry Arms Pub, Cork
Cranhill No1 CSC. (1987) Barn Social Club
Cruiskeen Lawn CSC. (1994) Buncrana
Crumlin Star CSC. Crumlin Star Social Club, Ardoyne
Culdaff Shamrock CSC. (1992) Culdaff Arms Bar
Dalbeattie CSC. (1975) Pheasant Hotel.
Darwen CSC. (1984) Engineers Arms
Dumbarton Centenary CSC. (1988) McCafferty's Bar
Easter Ross CSC. (1988) Inver Gordon Social Club
Edinburgh & District CSC. Ryries Bar
Edmonton CSC. (1996) Sportsman Lounge, Alberta
Errigal CSC. (1995) The Celtic Tavern, Falcarragh
Erskine Park CSC. (1988) Park Mains Bar
Eyemouth and District CSC. (1971) Ship Hotel
First Ballymacarret CSC. (1975) Sean Martins SC Belfast
Fort Lauderdale CSC. Dicey Riley's
Fort William CSC. (1980) Alexandra Hotel
Fresno CSC. (1999) California
Gallaghers Bar Stirling CSC. (1988) Gallaghers Bar
Gerry Connor CSC. Red Comyn, Cumbernauld
Gerry Watt Torquay CSC
Gibraltar CSC. Three Roses Bar
Gifford CSC. (1963) Guildford Inn, Craigavon
Glenbarr CSC.
Gosport Jimmy Johnstone CSC. Queens Head
Govan Brighton CSC
Grampian Shamrock CSC. (1996)
Green & White Brigade CSC. (1987) Doherty's Bar Hamilton
Greenwell Celtic Circle CSC (1988). Armadale
Grunu Rakettturnar CSC. Mjallagarta Iceland
Hamilton Emerald CSC. (1994) Douglas Bar
Harrogate Hoops CSC. Black Swan
Hartley Mullens Castlecomer CSC. (1996) Tommy Coogans Bar, Kilkenny
Henrik Larsson No1 Penilee CSC. Cushions Snooker Club
Holloway CSC. (1995) The Black Horse, Wedmore St
Hoops CSC. Hoops Bar Tenerife
Jackie Dziekanowski No1 CSC. Riddrie
Jimmy Drummond Winnipeg CSC. (1996) Santa Lucia Restaurant
Jimmy Johnstone Doncaster CSC. (1977) Doncaster Social Club
Jock Stein Donegal CSC. (1995) Quigleys Point
Joe Miller CSC. Central Bar Downpatrick
John Collins Galashiels CSC. (1972) The Abbottsford Arms
John Doyle West Belfast No1 CSC. (1983) Felons Bar
John Tennyson CSC. (1978) Lisburn AOH
Jonathon Gould CSC. Hyde Park, Plymouth
KeadY 9 in a Row CSC. (1995) John Mone Bar, Armagh
Keep Bar Dumbarton CSC
Kettering Harps CSC. The Clubroom
Kilrea Rashharkin CSC. (1996) Rogans Bar Kilrea Derry
Kinning Park CSC. Swan Inn, Pollockshaws
Knightsridge Livingston CSC. (1988) Harvester Bar
Langholm Shamrock CSC
Larkfield Eddie McLoin CSC (1969)
Larne Emerald CSC (1995)
Liverpool CSC
Lochend Easterhouse CSC. (1964) Bishoploch Tennants Hall
Loftus Cleveland CSC. (1980) Murphy's Bar
Los Angeles CSC. (1989) The West End Pub, Santa Monica & Cock and Bull Bar
Loughbrickland CSC. (1992) Red Star Bar, Banbridge
MacDuff CSC.
Macari & Crerand CSC. (1988) Star Inn Falkirk
Magherafelt South Derry No1 CSC. (1995) Nitos Bar, Magherafelt
Malta CSC. Ryan's Pub, St Juliens
Manchester Shamrock CSC
Manchester Stretford CSC
Mansfield No1 CSC. (1976) Black Swan
Mansfield Shamrock Alloa CSC. (1985) Mansfield Arms
Marrowbone CSC. (1996) Glenview Bar, Belfast
Maryhill Harp CSC. (1990) Viking Bar
McLaughlin's CSC. (1975) McLaughlins Bar, Antrim Rd
Mid Leinster CSC. (1988) Pats Bar Tullamore
Milton No1 CSC. (1986) Quin's Bar, Bishopbriggs
Moneymore John Thompson CSC. (1990) Tyrone
Moodiesburn Centenary CSC. (1988) Silver Larch
Morningside CSC
Mosstodloch CSC Moray
Murdo McLeod Kelso CSC. (1984) British Legion
North Birmingham CSC, (1973) St Theresa's Social Centre
North Kentucky CSC. Tickets Sports Bar
North Wales Emerald CSC, Conwy
Northampton Shamrock CSC. (1975) Irish Centre
Overtown CSC. Wishaw
Papua New Guinea CSC
Partick Smiddy CSC. (1966) Smiddy Bar
Pat Bonner Coalisland CSC. (1988) Rossmore Bar, Coalisland
Pat Crerand Chester & District CSC. (1989) Ellesmere Port
Patsy Gallagher CSC. (1977) Salmon Inn Donegal
Paul Elliott Irvine CSC. (1995) But n Ben
Paul Johnson CSC. (1992) Old Cross Inn Monaghan
Phil O'Donnell Hamilton CSC. (1996) Auld Hoose
Plymouth Minerva CSC. (1996) Minerva Inn, Looe St
Possilpark Centenary CSC. (1987) Carey's Drum
Queens University Belfast CSC
Rathdrum Emerald CSC. (1995) Jacobs Well Wicklow
Rawyards Airdrie CSC. (1948) Wayside Tavern
Reading Central CSC. (1990) Lesters Bar, Ship Hotel, Duke St
Return to Paradise '95 CSC. Ballymena
Roddy McDonald Falkirk & District CSC. (1978) St Anthony's Church Hall, Rumford
Roe Harps Derry CSC. 91994) St Pats Hall, Limaudy
Rogan & Roche Southampton CSC. (1986) Stella Maris Club
Rotherham Emerald CSC. (1989) Millmoor Hotel
Round Toll CSC. (1945) Bensons
Saltcoats and District CSC. The Elms
San Diego CSC Blarney Stone
Saskatoon CSC (1994)
Scott Brown Rotherham CSC (2021)
Sean Gillespie CSC. Ladyton Bar
Seattle CSC. (1997) Kells Irish Bar
Selkirk Bhoys CSC. (1995) County Hotel.
Shamrock Flying Tims CSC. Antrim
Shawlands Shamrock CSC
Shepherds Bush Emerald CSC. Tommy Flynn's Bar
Shettleston No1 CSC (1953) O'Kane's, Westmuir St
Shrewsbury Shamrock CSC.
Sighthill Emerald CSC
Skybar Shamrock CSC. Sky Bar, Alfreton Rd
Sons of Athenrye Maybole CSC
Sons of Eire Aberdeen CSC (1993)
South Derry No1 CSC (1995)
South Down No1 CSC. (1993) O'Shea' Bar, Warrenpoint
South East Emerald CSC. (1996) Bexleyheath Kent
South West Donegal CSC. (1984) Kelly's Bar, Frusses
Springhill Centenary CSC. (1988) Brandy Bar, Shotts
St Anne's Belfast CSC
St Brigid's No1 CSC. (1992) Railway Bar, Newry
St James Belfast CSC
St John's Shamrock CSC. (1996) Adanac Club, New Brunswick
St Joseph's CSC. (1978) Independent Club, Newry
St Luke's, Peterborough CSC. (1988) Orton Snooker Club
St Mary's CSC. (1989) Woodman Pub, Hockley, Newry
St Michael's CSC. (1986) Anderstown Belfast
St Patrick's Greenford CSC
St Serfs CSC. Mulvanney Bar, Airdrie
Star of the Sea Girvan CSC. (1976)
Steve Chalmers CSC (1987) Renfrew
Steve Murray CSC. (1989) Castle Bar, Coleraine
Strabane No1 CSC. (1996) Greyhound Bar
Tain CSC. (1996) Railway Hotel
Tameside Emerald CSC. The Stamford Pub, Stalybridge
Tampa Bay CSC. Rose & Crown, Seminole
Teeside and Darlington CSC
Thringstone Bhoys CSC. Queens Head pub
Tollcross Shamrock CSC. Park Bar
Tom Boyd CSC. (1995) Donaghys Bar, Dungannon
Tommy Boyd CSC. (1987) Jack Daniels Bar, Motherwell
Tommy Gemmell No1 CSC. (1991) Sunbeam Bar, Derry
Torrance Shamrock CSC. (1994) Ledgate Lounge, Kirkintilloch
Tra Mhor CSC. Waterford
Tranent and District CSC. (1973) Tranent Snooker Club
Tribesman Galway CSC. (1994) Brennan's Bar, New Docks Galway
Tullygally Emerald CSC. (1986) Armagh
Tyrone No1 CSC, (1986) Dungannon
Uphall Shamrock CSC. (1980) Douglas Arms
Vancouver Barnet CSC. Barnet Hotel, Port Moody
Vale of Leven Emerald CSC. McCann's Bar
Wakefield No1 CSC. Bolands Bar, Union St
Warrington CSC. (1984) St Vincent's CC
Wearside CSC. (1994) Holy Rosary SC
West Cumbria CSC. (1988) Brow Top SC
Wigan St Patrick's CSC
William Harkins CSC. (1967) St Vincent St, Glasgow
William Thompson Provan CSC. (1976) Provenmill Inn
Willowford CSC. (1970) Cavendish Bar, Nitshill Rd
Woolwich CSC. Woolwich Catholic Club
Yokermill Road CSC. (1947) Logan Arms Clydebank